This is a PDF to be printed and either sent by post or scanned and emailed to us. If not using the bidding slip above, please note your emailed bids should include your full name, address, telephone numbers and email address.
Please send commission bids to auctions@jacobsandhunt.com by 5pm the day before the auction. We will do our best to execute any commission bids that arrive after this time. Please note: you will get an email confirmation of your bids. Please check to see that the bids are correct and let us know if there is any error. If you do not receive this please contact the office urgently on 01730 233933.
Our Catalogues are now available on the Easylive website. You will need to register with them once to bid.
We are pleased that this platform allows our customers a choice between an online bidding flat fee (often a more favourable option) or the standard 3% hammer price fee. 
Customers may also choose to view the sale and bid in person or via a commission bid without any fee. Our catalogue is also featured with The Saleroom form which you can also bid subject to their fees. Our normal buyers commission fees apply.
Please follow the link below: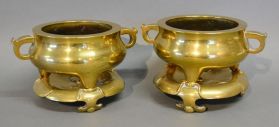 How do I know if my bid has been successful?
If you leave a bid, we will send you the results for the lots you left a bid on, and also an invoice if you have been successful immediately after the auction finishes. We also publish the full results on our website; see News/Results. 
How may I pay for my successful bids?
We accept payment by bank transfer, cash or debit card (any amount if present with chip & pin and to a maximum of £200 if paying via by telephone). We no longer accept credit cards or cheque payment. 
When can I collect my items?
We are open for collection Monday to Friday 9.30am to 4.30pm. If you wish to collect outside these hours please call the office on 01730 233933 and we will try to make alternative arrangements for you if possible. Lots must be paid for and removed from the saleroom within one week of the auction
 Please note that all items bought & sold are done so under our conditions of sale.
 Do you offer a delivery service?
Small light items such as Jewellery: We can post these for you via Royal Mail Special delivery for £15 plus VAT. If you wish us to do this we require an email from you requesting us to do so, specifically accepting liability & insurance. Once we have received your email and payment we will post as soon as we can. We can supply the special delivery reference number on request but cannot participate in any arising claims with Royal Mail you may have regarding your delivery. Alternatively please see professional delivery services below.
Recommended agents for packing and shipping
Box-able items: (Silver & Jewellery, Works of Art, Collectables, Small Furniture, Paintings etc)

Part & Parcel Tel 01252 545 611 http://www.worldwideauctiondelivery.com/coverage.html
Mail boxes https://www.mbe.co.uk
Furniture: 
Hampshire deliveries: Terry Gilbert 07885 463723
James Gilding Transport: (Leicester based)  07807 132783  jg-transport.co.uk
Country Logistics: (  East Sussex based) 01892 610506 / 07929 351023
Alban Shipping: (Countrywide): 01582 493099 www.albanshipping.co.uk  info@albanshipping.co.uk